Female Symptoms of Fertility Issues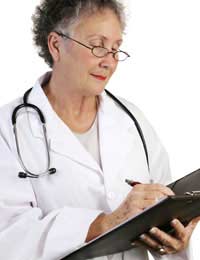 Infertility in both males and females, is defined as inability to conceive after 1 year of regular, unprotected intercourse. There can be several causes for infertility in women. These causes give rise to signs and symptoms, which when they occur, may or may not be linked to infertility. Causes of female infertility can be categorized into congenital, structural, hormonal, infectious, and immunological.
Polycystic Ovarian Syndrome
One of the most common causes of infertility in women is a condition called PCOS, polycystic ovarian syndrome, which affects roughly 70% of women with infertility. PCOS is a condition caused due to hormonal imbalance. In normal women, every month a certain amount of eggs are formed, which mature in little sacs called cysts. Over the period of the month, one of these eggs is recruited for ovulation. This single egg is then either fertilized in that period or is shed with menstruation. In women with PCOS, however, the ovulation process is disrupted. All the eggs develop, but they do not mature as estrogen is not utilized effectively. They remain as cysts, leading to failure to ovulate and hence infertility. Symptoms of menstrual irregularities, heavy periods, amenorrhea (absence of periods), excessive hair growth, acne, etc., are other signs and symptoms seen in women with PCOS.
Endometriosis
Another common cause is endometriosis, occurring in at least 30% of the women with infertility. Endometriosis is a condition where the innermost lining of the uterus, the endometrium, is displaced outside the uterus, commonly in the fallopian tube, the ovaries, and rarely in the pelvic cavity or abdomen. Since the inner lining of the uterus is shed during menstruation if pregnancy has not occurred, the tissue that is implanted elsewhere will also behave in the same way. During menstruation, this tissue will also shed blood, but as there is no exit for the blood, it gets trapped, irritating the surrounding area causing cysts to form. This leads to formation of scar tissue and adhesions. If these adhesions occur in the fallopian tube, it leads to blockage or obstruction which prevents the fertilized egg from reaching the uterus. If it occurs in the ovaries, then it can lead to prevention of the egg from being fertilized. Other symptoms that aid in diagnosis are menstrual problems like painful periods or dysmenorrhea, painful intercourse or dyspareunia, pelvic pain, rare cases may have blood in stool or blood in urine if the endometrial tissue is embedded in the abdomen or the urinary tract.
Sexually Transmitted Dieases
Infections, especially sexually transmitted diseases like Chlamydia, if not treated at the earliest can result in scarring and lead to pelvic inflammatory disease, or PID, another common cause of infertility. PID, as the name suggests, is inflammation of the pelvic organs caused by infection by bacteria or viruses, the most common being Chlamydia and gonorrhoea. Symptoms are severe abdominal or pelvic pain, abnormal uterine bleeding, abnormal vaginal discharge, dysuria, dyspareunia. The symptoms usually occur either before or after menstrual periods.
Hormonal Disorders
Endocrine disorders or hormonal disorders such as hypothyroidism can also be the cause of infertility as it produces hyperprolactinemia or excessive production of prolactin which can suppress ovulation. Patients with hypothyroidism will have other symptoms attributed to the condition like unintentional weight gain, fatigue, abnormal menstrual cycles, decreased libido, cold intolerance, etc.
Other uncommon causes are congenital defects where a female may be born with congenital absence of one or more structures in the reproductive system, like the fallopian tubes or ovaries. There may also be structural defects like an abnormal uterine cavity, obliteration of the uterine cavity either by surgery, infections, trauma, or radiation treatment of cancer.
Having discussed these causes of infertility in women, it needs to be emphasized that timely treatment of these above diseases can lead to successful treatment of infertility. Prompt diagnosis is a must in these conditions, because if left untreated can cause irreversible damage. For this, women should always be aware of any changes from the ordinary occurring in their body and inform their healthcare provider. These changes, however subtle, may be an indication of a more serious underlying condition.
You might also like...