Are There Any Other Treatments?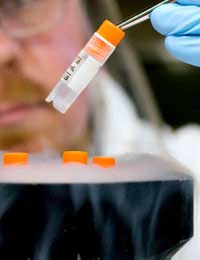 Q.
I'm 35 and been diagnosed with POF. Blood tests indicated no ovulation, however my scans show I have plenty of follicles. I've tried Clomid but it hasn't helped. Are there any other possibilities or treatment ideas I could pursue for the chance to mother my own baby?
(Miss Dawn , 22 October 2008)

A.
It can be a real blow for a woman to learn that she has Premature Ovarian Failure (POF). It affects about one in 100 women aged between 30 and 39 and happens when the ovaries completely stop working. This is often due to losing egg follicles, or to them failing to work properly.
In many instances, the exact cause of premature ovarian failure is unknown. Sometimes the follicles are affected by chromosomal defects or toxins, particularly from treatments such as chemotherapy or radiation therapy. Dysfunction of the follicles can also occur as the result of an autoimmune reaction, where the body attacks the follicles.
Premature ovarian failure is normally only diagnosed if you've not had a period for at least four months. Blood tests measure the level of Follicle Stimulating Hormone (FSH) in your blood. You mention that your scans show that you have plenty of follicles, but I assume the blood tests must have shown the levels of FSH are low in order for you to have been diagnosed with POF. Normally the levels need to between 30mlU and 40mlu/ml for a diagnosis of POF to be made.
POF can sadly make it much trickier for women to become pregnant. Some statistics suggest that only five to 10 per cent of women with POF are able to become pregnant naturally, with no help from fertility treatments. The best fertility treatments used to help women with POF include fertility drugs or assisted reproductive techniques, such as IVF.
It's good to hear that your doctor or medical professional has already put you on Clomid. This can be an effective drug and is designed to induce ovulation. You say that it doesn't seem to have helped, but you don't say how long you've been taking it for. In some cases it can have quick results, but for other women they do have to take the drug for longer before it works.
At this stage, it would be best for you to go back and see your consultant or medical professional and see what they would advice next. There may be another drug they could prescribe, which may suit your individual circumstances better. Otherwise the other main approach would be to try assisted reproduction techniques, such as IVF.
You might also like...
For more than 3 years we are trying to conceive. I had a failed IVF 2 years ago, last year in November I had a miscarriage at 6 weeks and in April this year I had another miscarriage at 5 weeks. My husband has done a spermogram and the total count is 18 million, normal forms 5% (rapid progression 14%, slow progression 30%, non-progressive motility 23% and immobile 33%). Recently I did a blood test back home (because I had doubt that what was happend to me was normal) and I found out that I have MTHFR (C677T) heterozigot mutation. What do you think I should do to get pregnant and to have a healthy pregnancy and baby? Thank you.
Simon
- 30-Oct-13 @ 1:07 PM
Iam ovulating but not bleeding this has occurred in the last 4 months125 days no bleeding just ovulating as usual..whats happening....? All FHS tests are normal...
bambi
- 27-Oct-12 @ 11:06 AM
i recently visited the doctor after finding difficult for me and my wife to conceive. i had a sample sent off and when i received the results my sperm count is fine but the semen isn't moving. the doctor said and this present time we will not conceive so they are referring me to a specialist. now im worried that its untreatable? is there a cure or are we just wasting our time
kevin
- 18-Sep-12 @ 6:21 PM