Using Acupuncture To Aid Fertility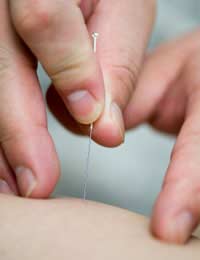 Problems with fertility and conception can be a source of great stress and anxiety for the person it affects and most of the people are usually willing to try anything that has been found to help improve their chances of conception. The issues surrounding infertility have been research for many years and often conflicting advice has been documented by professionals as evidence is discovered. This has occurred with the issue of acupuncture and its role in helping couples with fertility problems.
What Exactly Is Acupuncture?
Discovered and perfected in the ancient orient, acupuncture is a method of gently tapping into the body's natural energy channels using very fine needles inserted superficially into the most external skin layer. By doing this the channels of energy called meridians can be encouraged to flow freely unblocking and occlusions or obstructions and is thought to help ease, prevent and decrease emotional, psychological, spiritual and physical problems that relate to the corresponding channel.
How Might It Affect Fertility Patients?
It was initially believed that acupuncture in some way helped prepare the lining of the uterus for receiving a fertilised egg or embryo which would be more likely to implant and develop than in someone who's lining was not prepared as fully such as those who did not receive the acupuncture.The evidence for this is very small and may be due to other explanations and experts are undecided about how this is achieved.
What The Experts First Believed
When fertility specialised first ran a study on its use within IVF patients the preliminary results seemed very encouraging and experts were hopeful of securing its place in the fertility regimes. The initial results showed a marked increase in positive pregnancy tests though the study group was fairly small and larger tests were needed before the use of acupuncture could become a staple part of the treatment process.
What The Experts Know Now
Later studies showed that in a larger group of fertility patients the level of positive pregnancy tests was not increased and that it had little or no effect at all. It was thought that the drop in success may be related to patients finding acupuncture stressful or uncomfortable to use acupuncture or were simply not strong believers in its ability top help with such an intricate problem.It became evident that the mechanical action of the acupuncture needed to be researched along with more extensive studies being carried on larger sample numbers though this is not easily achieved as patients have been found to be quite unwilling to participate in these studies when the subject matter is so emotional and financially traumatic and the added stress may cause more problems with achieving a successful result than by not participating at all.
Problems with fertility can affect individuals in many ways but most fertility patients will agree that the processes involved with diagnosis and treatment are very stressful and tiring. This is exacerbated when evidence that first provides additional hope and enlightenment then turns to disappointment and discouragement leading experts to be torn in their advice.It is highly evident that the relationship between fertility sand acupuncture needs further investigation before any recommendations are made in the future.
You might also like...